Bushstyle in Samburu Land
As I write, a group of Samburu and Borana women, covered with endless amounts of bead necklaces, bracelets and earings, are having a meeting a few meters away…some cows belonging to the Samburu tribe were stolen by young warriors from the Borana tribe, guns got involved, and Police officer got shot two weeks ago. Hence, elder groups of both tribes are have just started peace talks. North Kenya is truly a crazy place… For the past two weeks, I've enjoyed every second of this constant culture shock… a complete clash which I'd been impatiently awaiting for.
So after having hit camels, slaughtered goats, slept on top the Rift Valley, drunk garlic liqueur, eaten fresh raw (still warm) goat stomach (Shanza!), chewed chat, slept in brothels… etc… we crossed from Ethiopia to Kenya, at the infamous border town of Moyale. As Shannon explained, the road was rough and dusty, the 4WD piled up with passengers, but a delicious first cold Kenyan beer on arrival which made it all worth it! Once in Isiolo (maddest town we've ever come across… everyone is high as a damn kite all night long everywhere in this place!!), I parted roads with the Australo-Zimbabwean quattro and headed for the bush to meet up with a community conservation NGO called Grevy's Zebra Trust.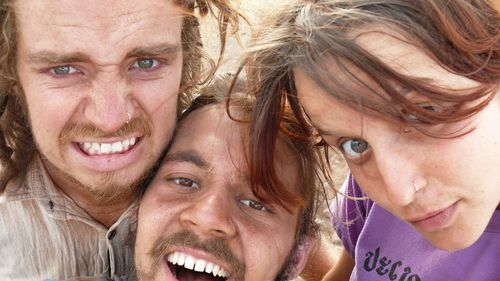 The dusty road after Moyale
Here, accommodation is your tent, the kitchen is three stones around a small fire, the bathroom is a bucket in the bush! We have camped in a different location almost every night, often in beautiful dry flood riverbeds, where you find the fresh footprints of elephants and giraffes. Scouts sometimes spend the night at our campsite with their reassuring AK47 … Scouts are employed by the NGO to survey the bush for Grevy's zebras, a species classified as endangered by the IUCN (decreasing population of about 2000 individuals). They also survey other wildlife and are meant to intervene if ever they come across poachers. These guys know the bush and they make you feel a lot more comfortable in these wild places.
But last night, no scouts, no AKs… I woke up in the middle of the night, hearing footpaths of an animal very close. Shortly, I could hear the loud breath of the animal probably less than half a meter from my head.... I grabbed a machete type of knife which I had in my tent, held on to it and waited … wondering what the hell this thing could be… A second one joined in… We were camping right into the Kalama Community Conservancy where the objective is to protect the bigger wildlife which includes leopards, lions, cheetahs, hyenas etc… and there were no scouts this time! The loud breathing suddenly stopped, and I never heard the creatures walk away… I fell back asleep a bit worried, especially that a lion had attacked a zebra a few weeks back just near where we were, and I also heard about a French traveler being attacked by a lion in his tent in the middle of the night nearby a few years back (he survived thanks to pepper spray according to one version of the story!). This place is just full of these crazy stories…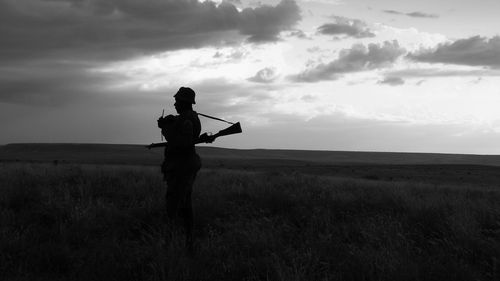 Ascout of Grevy's Zebra Trust

The organization basically employs scouts from remote villages throughout the Grevy's distribution. Once in a while, it's time for a roadtrip to visit the scouts and communities of the region and I arrive right on time! Just a few days after I turned up, we left for one week, 800km, craziest four wheel driving I ever did, to reach tiny little villages belonging to two belligerent tribes: the Samburu and the Turkana. We loaded the landcruiser with food, water, petrol, camping equipment and headed off with Peter (programme coordinator from Samburu tribe) and David (great cook and driver from the Meru tribe). A good bunch of Mirrra (Chat) was obviously needed to stay awake and focus on the huge rocks and deep mud holes… chewing on these bitter leaves is something I still really can't get used to, but the locals go crazy for it!
In every town we stopped, a community meeting was rapidly called. The village elders, the chief and us would sit under a big enough tree in the shade. Women stay back behind, listen but never participate. The village elder says a prayer (quite a wild and exciting prayer! I will try to upload a video) thanking the hills and the trees, the birds and the termites etc etc etc…. Then the NGO coordinator starts his speech in Samburu language. All I could understand the first time was 'Romain', then 'France', then… nothing. Silence. Just a sign asking me to get up and make a speech!! Haha! Shit! Not that I was feeling very comfortable to start with, being the only 'muzungu' (white person) in the whole town which everyone constantly stared at… But in front of me were fifty Samburu elders awaiting for my speech! What am I supposed to say??! It actually was a truly amazing feeling to finally be able to freely communicate with these people, no more communication barrier, as if a big transparent wall had fallen all of a sudden! This happened in each and every town we visited, once with even a lot more people!
One of many community meetings

The craziest part about these meetings is that the arrival of a white man in these villages was so exceptional that I soon became the motif of all these gatherings, instead of the actual visit of the NGO! The elder in the first town started the meeting with a prayer saying 'Today, we are thanking the gods for this white visitor! We should all prey more for more white people to come visit us… Black or white, Turkana or Samburu, there is no difference…' Throughout the meeting, I shook hands with this elder endless amounts of times, with someone translating our mutual 'Thank yous!'
In the town of Baragoi, the car is stopped to pick someone up. Within seconds, more than 30 kids are surrounding the car and all yelling 'Jesu habarri!!!'!! It all becomes so crazy that I don't even step out of the car, adults then join in… What the hell is going on?? Why are they all going crazy about me, I ask David?? He burst out laughing and explains that they think I am Jesus!! They think Jesus is back and they're all yelling 'JESUS!!! HOW ARE YOU!??!??'
In one town, I made friends with the village chief – he was extremely curious about life in France and me about his culture and lifestyle. We spent the night around the fire chatting … and slaughtering a goat which was offered by the elders of the community to thank us for our visit! Local tradition here is to drink the goat's blood; what I didn't know is that the goat's neck would be skinned alive. The goat is held on its back; someone is impatiently waiting on his knees, the knife finally slices, and the hot blood flows from the goat's veins straight to the mouth of the lucky vampire! The kidneys are then eaten raw and the liver is thrown on the ashes for a little 'aperitif' before the ribs and all the rest… even the head is used for stew, and the skin to make a very basic bag sometimes (i.e. just tie up the legs' skin two by two and you've got a backpack! Bush Eastpack!).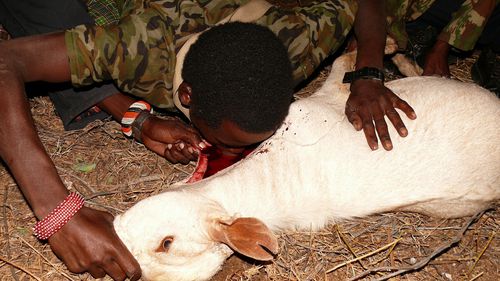 Blood drinking...
This gave me some time to have a good laugh with the chief… Here are a few quotes of the funny old chief:
"So there's something I've never been really sure about…The French and the British, why are they different? Is it because they belong two different tribes??"
"What can u do in France with 100 europounds??"
"So China is like France huh? Because they are very close, right?"
"So do you have a chief in your village?"
The next morning, the chief washed himself in the bush with OMO washing powder! Sometimes it was really hard to hide a smile or just even not to burst out laughing!!
Equally sometimes, it was difficult to know how to react when it comes to the way children, but especially women are treated here.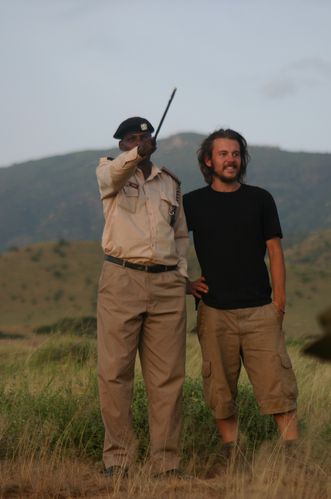 The chief posing for the photo
Samburu people are nomadic pastoralists, they live in wooden huts. You can measure one's health by the amount of goats, sheep, cows and camels owned, and by the amount of necklaces and other jewelry worn. All men are circumcised and I believe women also, in cycles of about 14 years. Men's two bottom front teeth are ripped off around the age of 10 and ears pierced with the holes progressively enlarged. At the age of 15-25, boys become 'Morraans', warriors – you grow your hair, cover them in red mud/clay, wear all sorts of colourful beaded jewelry, from crowns to crazy earrings and bracelets…, also a big Kifu, traditional knife, similar to a machete. During that period, your family is not allowed to feed you or host you, you must live in the bush with the livesotck. Morraans are actually the cause of most tribal conflicts here, which is why this region is renowned as quite dangerous. The latter steal cows from other tribes and this regularly ends up in gun battles involving the police, which tends to make it even worse. The Morrans then eat the cows in the bush. Apparently, two men can eat one cow, by drinking a bush root- beverage every few kilograms of meat to facilitate digestion. Morrans from other tribes (42 in Kenya) also eat lions, giraffes, elephants etc… But it's not all pink and beautiful…the same chief also explained to me:
"Us Samburus, we have many wives, and we stay with the one that treats us best! So they all try to be better!!... "
Trying to further understand how limited women's rights are in this community he explains "Women u know, you are allowed to beat them here [the chief speaking is the one in charge of police/security]. We treat them as if they were children. Even if there is no good excuse, you gotta beat them once in a while to make sure their character doesn't take over too much".
Women are sold by there fathers for about 5-10cows (each cow being worth about150euros, a good price for a wife is therefore 1500euros…). Worst of all in all… women can be married from the age of 8years old. Eleven or twelve year old girls are seen walking around pregnant regularly so I hear…Women have only very recently started going to school and getting jobs, but stats are still very low… NGOs are slowly changing these age-old practices… but change is slow to come.
Sorry for the length of this post, but I promise this the short version!
Kisses to all,
Romain