Well, long time no see the old update on the blog, hey!Everyday I'd put it off to the next day and soon enough it'd been three months without a word! Reality is we've been enjoying life a bit too much to spend time sitting in front of a screen. So what's been happening since the last update in Mombasa??
Well, we had a whole list of places we were dreaming of visiting along the coast of Kenya and... we really only made it to Kalifi, a beautiful small little town less than one hour North of Mombasa. And we ended up spending a month and a half there!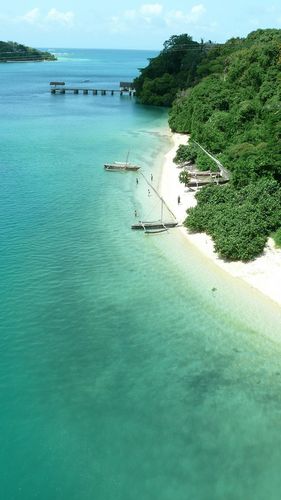 For some reason this place decided to treat us like kings and queens starting from the first day and accepted it... We were looking for any place to pitch our tents for the night and it appeared that there was no where for us to camp until a guy made a call and announces that he found us a place! Somewhat curious, we head off to check it out... it's called Black Marlin, it's a 5star hotel on the beach and it's all for us coz it's closed for renovation... and it's $3/night!!!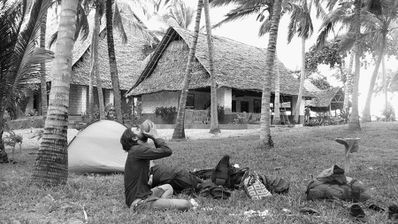 Fresh cocojuice upon arrival at Black Marlin
Swimming pools, big barbecues, the manager gives us access to all facilities and even opens us a room (usually 150$/night) to put our stuff and even spend the night, he says, if it rains too much. So we survived for some days in our private 5star hotel living off endless coconuts and decided that life was too hard so we went to catch up with a friend of ours who had invited us to stay with her at her friend's beach shack in Kilifi. The shack happened to be 300meters from the hotel down the beach!!
So we moved to our new residence in a few minutes...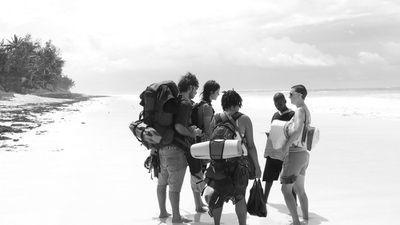 Migration from 5star hotel to the little beach shack
The manager and his sister became good friends and we'd hang out together either at the hotel or our new place. Access to the hotel's pools was always available, coconuts delivered by 4WD, and he even offered us a goat before we left so we organized a big barbecue in the garden!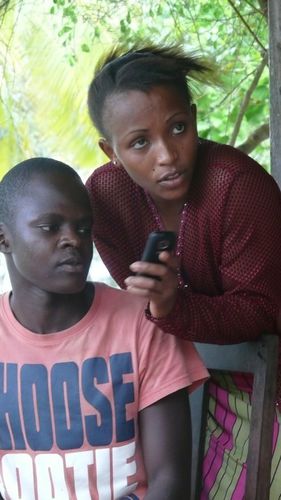 Our sister Cecy from Black marlin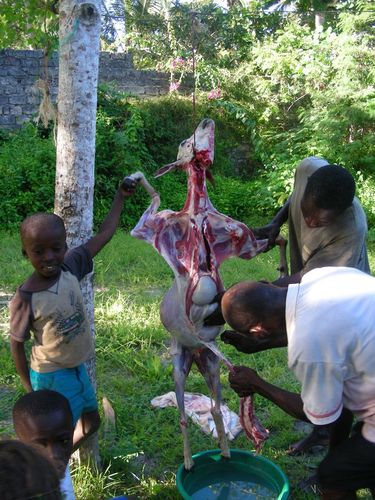 Omari holding hands with the goat
The place was an old run-down beach shack with a rusty corrogated iron roof that looked over the reef and with a garden of grass and coconut trees extending into a beautiful white sanded beach.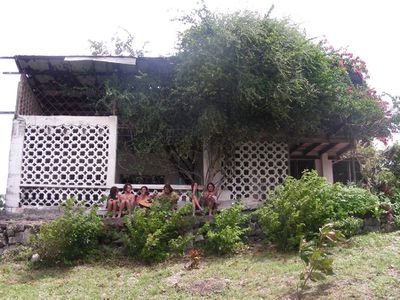 Our new house...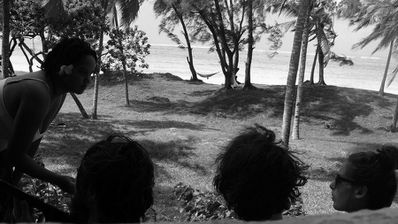 And the view from the house...
We all slept in tents and hamacs and cooked everything over the fire. Food wise, once again, life was a bit rough, but that's the price to pay if you want to survive in paradise. Everyday a few of us would come back from town loaded with all the fruits and veg you could dream of and at low tide, (spear)fishermen would come to our door sell us prawns, crayfish, mudcrab, octopus and all sorts of fish... for a dollar or two. And for those who have tasted Tom's preparations, you must know how much we suffered.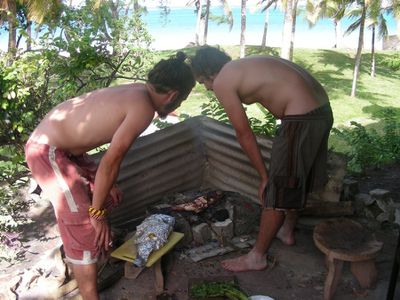 Breakfast, lunch and dinner cooked on the fire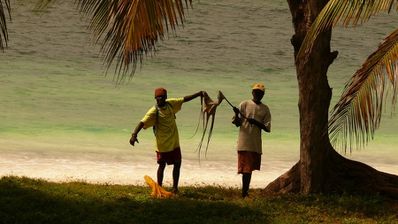 Thats Yoho trying to show us and sell us his friend's octopus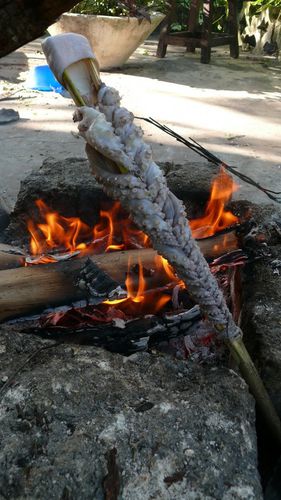 And thats the local style for cooking octopus... quite cool really!
A local spearfisherman who's come for business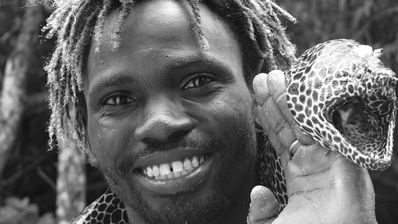 Spearfisherman and his 'snake fish'
Thats dedicated to you Jon apparently?! Why? not sure
Once in a while, someone would force you to drink rhum straight out of a coconut before playing with local kids in the waves or snorkelling... Paul would either spend his days reading Shakespeare to his newfound marmaid or play guitare and yell out his songs to the ocean, occasionally giving guitare lessons to the local kids which soon enough felt more at home in our place than us (Paul wrote a song about them called 'Six year old thieves')!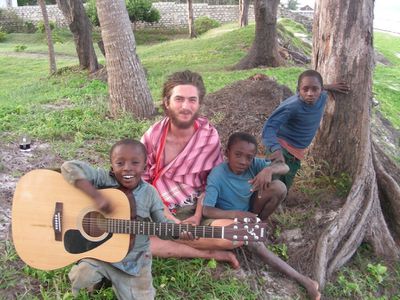 Paul and his students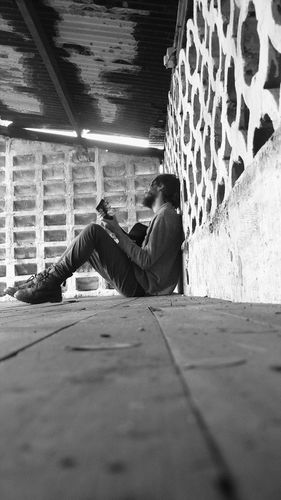 Album cover for Paul's coming up album
Every morning, the three brothers Omari (the naughty 6year old), Ali (10) and the third trouble maker would come with maize stolen from the fields to cook on our fire and chill around all day long, painting with Shannon, opening us coconuts, listening to hip-hop with our ipods, and do their best for us to want to rip them into pieces. In the end, Shannon and Megz fell in love with the three kids and organized everything for us to sponsor them to go to school. Really miss these damn kids!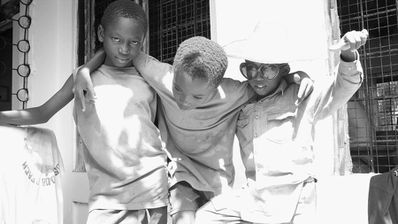 The three beach gangsters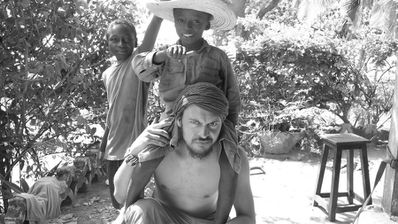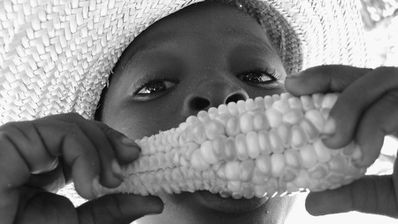 The very naughty tiny little Omari
We then made our way to Jinja in Uganda via Nairobi – Jinja is by the Nile and it's the place for all white water sports. So we hung out there for a week, met some of the maddest guys – some had paddled down the Nile from source (Uganda) to sea, for another it was the Congo River solo for 8months, one survived from being attacked by a croc and also sailed the arctic and sank his boat under the ice, two guys riding bikes from South Africa had just been lost in the desert for a week in Tanzania both with malaria and no food no water... It reached a point where nothing would surprise us anymore!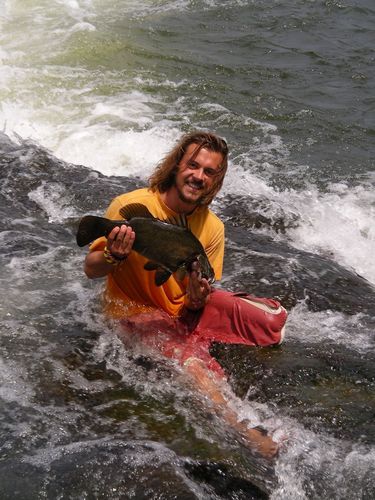 The first Nile Perch, and the craziest of all fishing stories!!
We then heard of Hairy Lemon, a little piece of paradise on an island on the Nile not too far from Jinja, so we went off to check it out as the Nile Perch fishing is meant to be amazing. There we found an archipelago of 9 islands with a small ecotourism business running on it which had just been taken over by Paul, a South African guy with hundreds of hours worth of crazy stories. Amazed by his projects for the place (setting up a permaculture farm, aquaculture farm, hydroelectricity, community conservation projects, kayaker's island campsite etc...) I offered him to stick around for a month and help out on community conservation projects.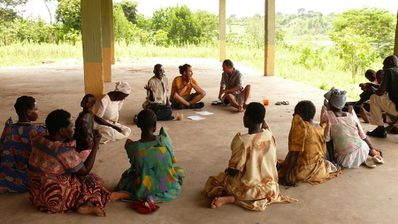 Meeting with neighboring community to set up communal farming project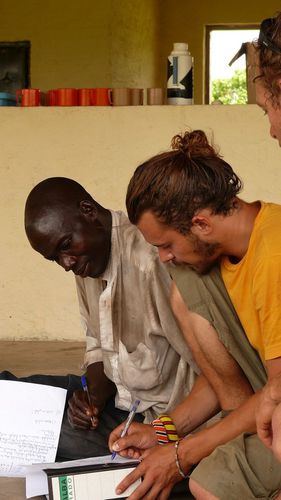 Working on translantions with Stephen from English to Lugandan
I had a sweet time camping on my own separate island,loved the staff and the place, and hopefully somewhat improved locals' livelihoods by handing out coffee seedlings and organizing a community farming project on the land of Hairy Lemon. I might head back there in a few months do some more work, we'll see.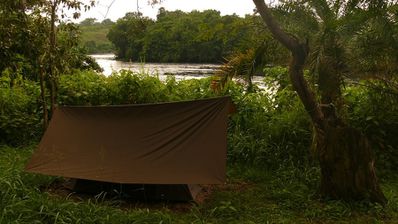 My campsite on my island on the Nile... nice, green and peaceful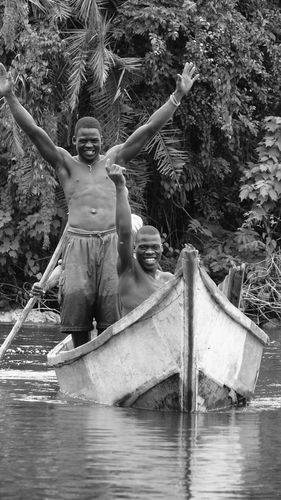 My brothers for some weeks, Omaru and Chaga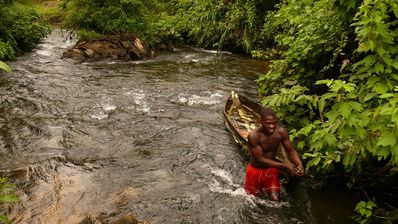 Pretty effortless task for Omaru to carry a sinking canoe up a river!
Whilst I was there, the others got back on the road and Shannon got malaria! So now Tom is single after 9years and looking for a new wife. No, she did alright apparently and got treated early enough and back on her feet in a few days! A bit scary though! Tom and Shan went to Rwanda and Paul flew to Australia for his sister's wedding. Since then I've been exploring southwest Uganda with a guy I met who'd just cycled 11 000kms from South Africa and we rode motorbikes on goat tracks between crater lakes and chilled on islands on a lake nearby Congo, gorillas, Pygmees and Rwanda without seeing any of those...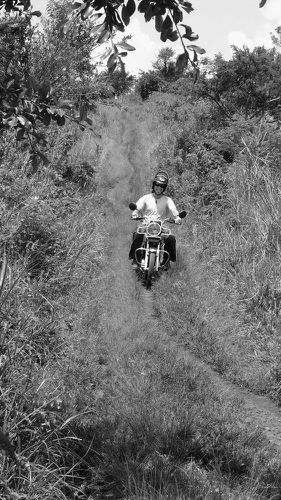 Carl riding down goat tracks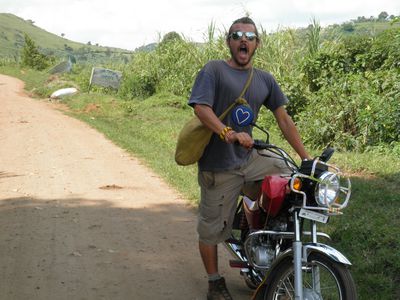 Now plans have changed for various reasons, one of which is the old lack of $$ for some of us (donations are welcome by the way!), and so it's been decided that we'd fly straight to Zimbabwe from here, leaving Tanzania (and Rwanda for me) to another day. From there, the plan is to roadtrip around Zim (collect wild mushrooms, fish for trout, chill on house boats on Lake Kariba...), south of Malawi, Mozambique and South Africa. Tom and Shan are already in Harare at Shan's family house and I'm flying down to meet them on Saturday. I appeared to have heard that Paul should be back soon from Australia but the man is not of the most reliable type! If you know him, then you know what I mean! Once we couldn't find him on the Hairy Lemon island for lunch – he then explained he was just wandering naked in the little streams between the islands; sometimes he's just stuck with a broken motorbike on top of a volcano... so not quite sure when we'll see that hairy beast next but damn look forward to it!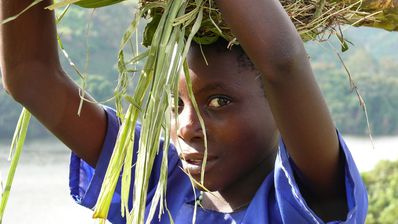 A beautiful little girl walking up a hill between two crater lakes carrying sugar cane on her head
So that's the news ey! Hope uz are all good and smiling and will someday come visit all these countries as they're well worth it and the people are truly wonderful. One last kiss from Uganda!
Romain